Round trip of 22.9 km passing Harlingen. No portages. Starting point in Arum.
This is a nice tour between the quiet meadows of Friesland varied by a visit of Harlingen.
No kayak rentals along the route.
Starting point Kimswerd and Arum
Exit the N31 (Afsluitdijk - Harlingen) in the direction Kimswerd and Arum.
In Kimswerd you turn right just before the bridge. The starting point is at 50 meters at the bench. There is limited parking space.
You can also go straight on towards Arum. There you turn right on De Tille. After two bends you're on a dead end road towards a meadow. Just before the bridge there is a pier on your right with a low section for kayaks.
From the starting-point you go to the right. After a few bends you pass the village Kimswerd. Keep following the canal to the north. There are a few side-canals at the houses, but you keep on the main canal around the villa area. After the bridge under the N31 you turn right at the camping with holyday-houses. If you should turn left you come at the sea-dike. You can go to the side here for a look on the dike with a nice view on Harlingen in the distance. You pass a campsite and then you enter Harlingen. In Harlingen you turn right. In the center of town you go straight on. After a sharp bend to the left you can go to the side for a walk through the town. This canal ends at the locks of the Van Harinxma Kanaal. There may be some current when the locks open. There are many boats on the canal, both yachts as cargo ships so be prepared for the waves. After a short distance you turn right at the sign 'sloepenroute'. At the end of the canal you turn left at the T-junction. You pass shipyards and at the end of the canal you turn right under the bridge of the N31. After a short distance you turn right after 'Mutiboat'. The side canal looks a bit like a small harbour. There is a sign at the entrance directing towards Achlum. Follow the bends and go under the railroad bridge. This is a nice canal with many bends. After the first bridge you keep left on the main canal. You pass through the beautiful village Achlum. Shortly after the village you come at a wider canal. Turn right towards Arum. After you passed Arum, you turn right and you see the starting point on your right.
GPS De Tille in Arum: Lat 53.1287 Lon. 5.4704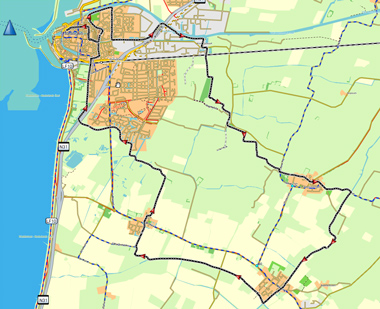 Downloadable GPS-track (22.9 km): Harlingen.
Kimswerd.
Harlingen.
The dike with Harlingen in the distance.
Harlingen.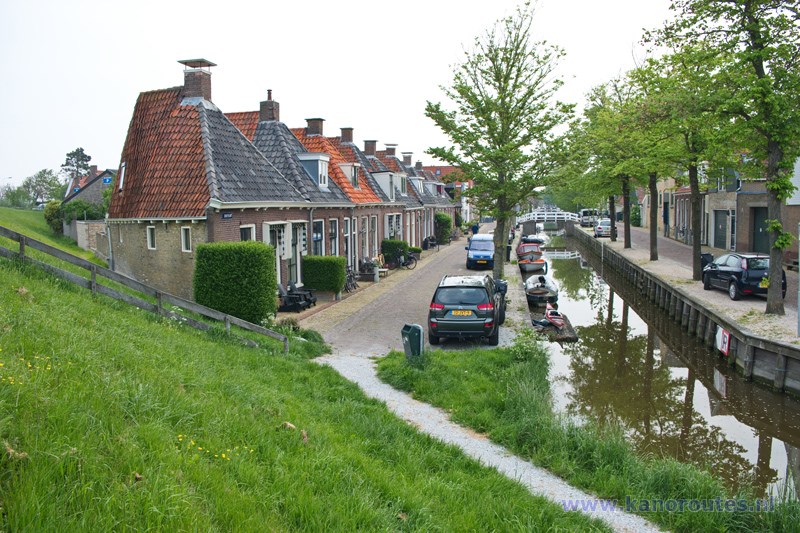 Zoutsloot in Harlingen. Behind the dike is the terminal for the ferries towards Terschelling and Vlieland.
Harlingen.
Harlingen.
Harlingen.
Achlumervaart.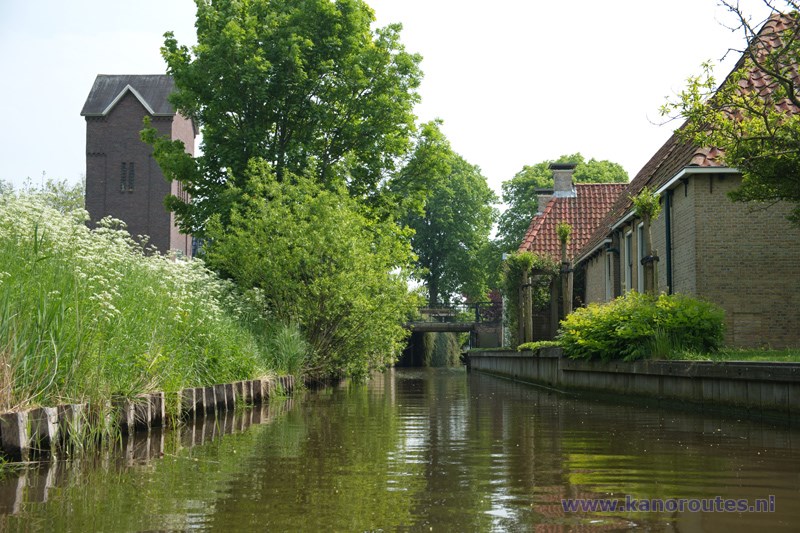 Achlum.
Achlum.