A nice kayak trip is from Marple Junction to Whaley Bridge and back: 2 x 10.2 km = 20.4 km. No portages.
From Dukinfield Junction to the first of Marple locks is 2 x 12 km = 24 km. No locks, 2 tunnels.
History
The Ashton Canal was built in 1794 between Manchester and Ashton under Lyne. Later it was extended by the Peak Forest Canal towards Bugsworth (later named Buxworth) and a short branch to Whaley Bridge. At the
Bugsworth Basin
it connected to a number of tramways at a complex of basins. Because of the hilly landscape some aqueducts and two tunnels had to be made. The Woodley Tunnel has a length of 153 meters and contains a towpath, the Hyde Bank Tunnel is 337 meters and has no towpath. A series of 16 locks at Marple devided the canal into a lower pond to the north and a higher pond. In Whaley Bridge there is a transshipent shed where boats entered the middle part and on both sides there was a railroad. This building is still to be seen. In 1925 the railroads were dismantled leaving the higher pond very quiet. The lower pond remaind in use as it formed a link between the Macclesfield Canal towards Manchester. Since 1964 the canal is restored. In 1999 the basins at Buxworth were re-opened. This is a beautiful place well worth visiting.
Starting point Marple Junction:
You can park in the nearby Church Street (lat. 53.3924, lon. -2.0611). Parking at the Ring O'Bell is for customers only. The owner ojects parking by people who want to bring their kayak to the canal and stay away for a long time. From here you go south to the end of the canal. After bridge 29 you pass
Torrs Riverside Park
. Just before the end there is a side-canal to the left towards Bugsworth Basin. This only is a short distance. A bike-ride from Marple Junction to the city center of Manchester (Piccadilly Village) along the Peak Forest and Ashton Canals is 25 km and takes about 2,5 hours. At the Hyde Bank tunnel you must make a small detour over the hill. At bridge (7A) on the Ashton Canal you pass
Sport City
. At bridge 9A there is a big supermarket (
Asda
) open 24 hours a day.
Starting point Ashton under Lyne:
From Dukinfield Junction to the first locks at Marple Junction is 11.2 km. You can start at the
Portland Basin Museum
, there is a parking place. (Lat. 53.4829, Lon. -2.1006 Welbeck Street South). This is a beautiful stretch. There are 2 tunnels. The second one, Hyde Bank Tunnel is rather large (337 meters) and there is no towpath going through. You need a strong forward shining (waterproof) lamp attached to the kayak, and you must wear a life-jacket with a whistle. The stretch from Dukinfield Junction towards Manchester (Piccadilly Village) is not suitable for kayaks as there are too many locks on the way (17).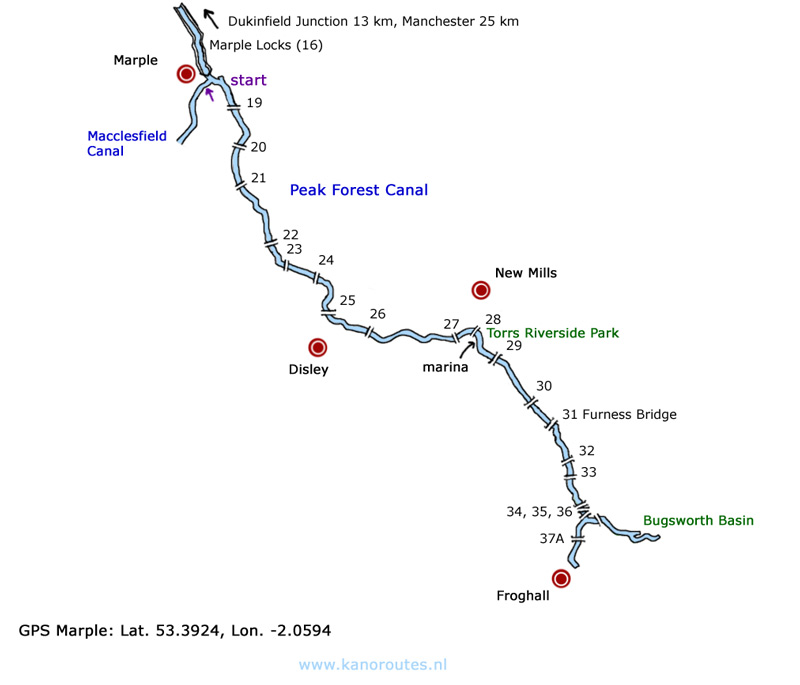 GPS Marple Junction: Lat. 53.3924 Lon. -2.0594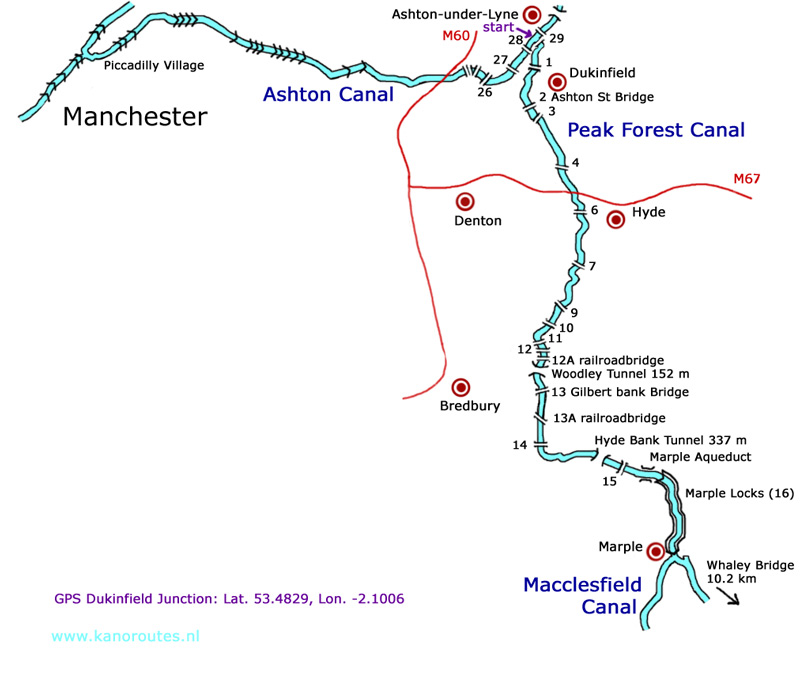 GPS Marple Junction: Lat. 53.3924 Lon. -2.0594
Because of the large number of locks navigation from Marple Junction to Manchester is practically impossible. It is a nice bicycle route though. You can go to the center of Manchester without any trouble of motorized traffic.
Marple Junction.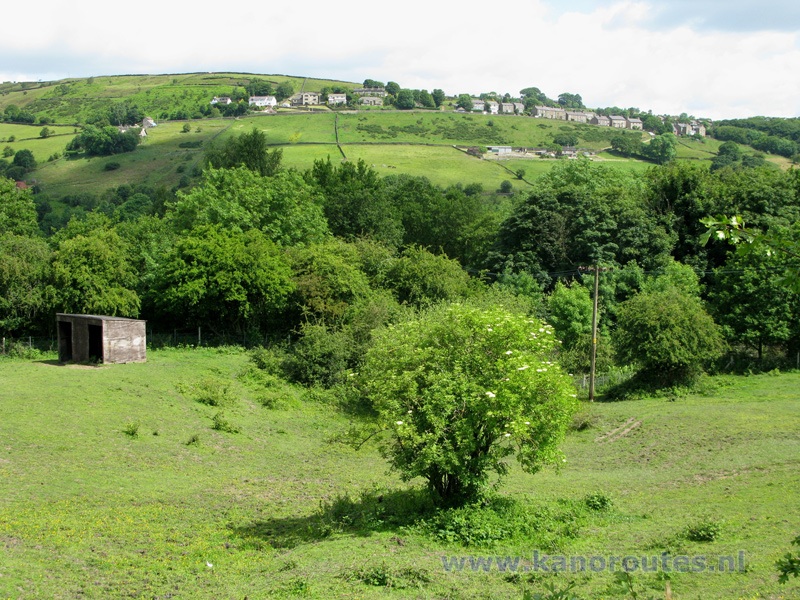 View from the upper pond between Marple and Whaley Bridge.
Peak Forest Canal.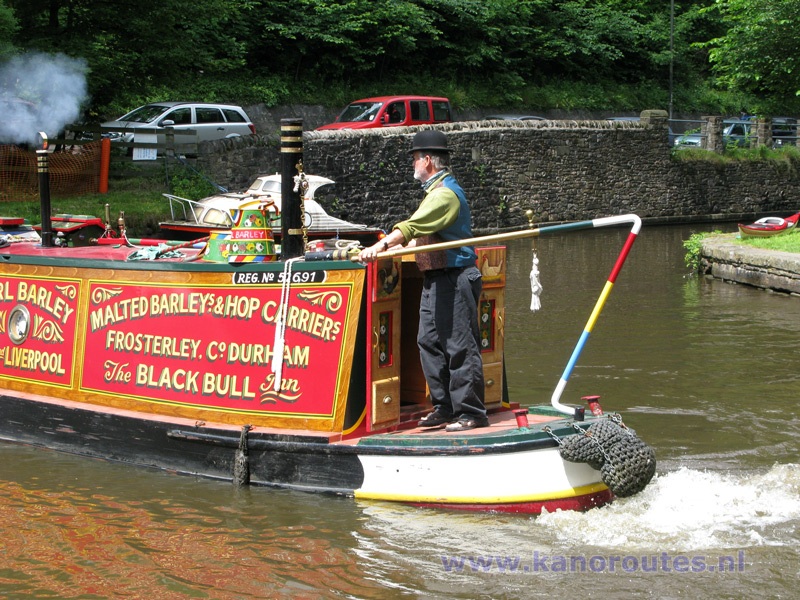 Dressed up helmsman at a fair in Whaley Bridge.
Bugsworth Basin.
View on Manchester from the lower pond.
Dukinfield Junction. To the left the Ashton Canal runs towards Manchester.
Locks in the Ashton Canal.