National Park "De Weerribben" in the province Overijssel
The peat-bogs that form the National Park "De Weerribben" are an ideal canoe-area. There are many canals, some of them are open for unmotorized boats only. You really can paddle around here all day and enjoy the nature.
Canoe-rentals at several places: Camp-site "De Kluft", Hoogeweg 26, 8376 EM Ossenzijl (phone 0561-477370). De Gele Lis, Hoogeweg 27a, 8376 AM Ossenzijl (phone 0561 - 477 442).
At Kalenberg: Pieter Jongschaap, Kalenbergerpad 4, 8377 HL Kalenberg. (phone 0561-477527)
When I take my own kayak, I like to start near Ossenzijl. There is a parking place just passed campsite "De Kluft" where also is a kayak-pier.
How to get there from the A50: Between Emmeloord and Joure, exit at Oosterzee and drive to the east through the village Echten. In Echtenerbrug turn right and follow the main road. After a bridge turn left and pass campsite "De Driesprong". At the next T-junction turn right and pass the villages Munnekeburen and Scherpenzeel. When you reach Ossenzijl turn left. After the bridge turn right. Across the next bridge there is a visitors-center (Bezoekerscentrum), then campsite "De Kluft" and then the parking-place.
There are three marked canoe-routes. Two of them start at De Kluft: Ossenzijlroute (red) 7 km , and Weerribbenroute (green) 16 km.
The third route starts at Kalenberg and is names the Kalenbergroute (yellow) and has a length of 8 km.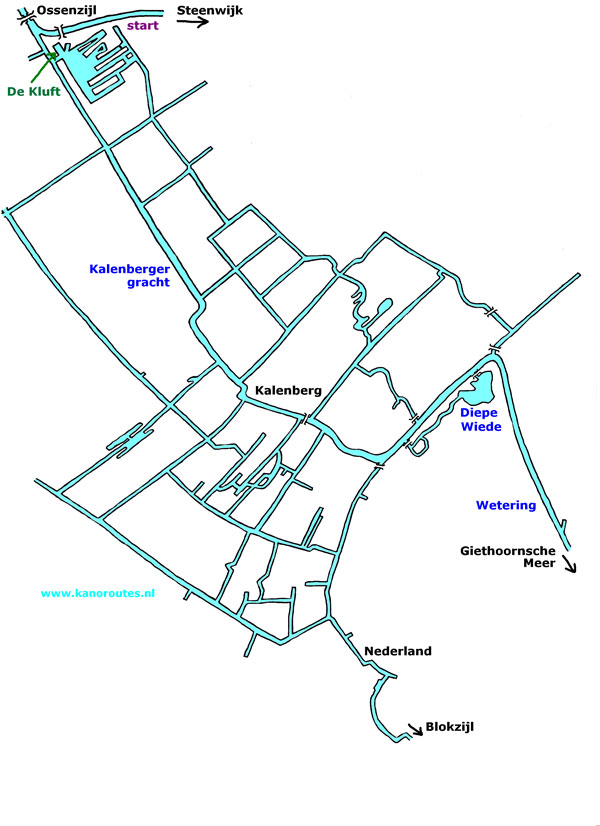 GPS Ossenzijl: Lat. 52.808100, Lon. 5.932100
Mapmyride: Weerribbenroute (16km) http://www.mapmyride.com/routes/view/1363709.
Maps of the area are available at the canoe-rentals. There is a main-canal through the area leading from Ossenzijl passed Kalenberg towards the lake Giethoornse Meer. On a sunny day many boats pass the canal. If you come from a side-canal give way and paddle close to the side. If you like to go for a swim, the ideal place is a small lake named Diepe Wiede. From Kalenberg take the main canal to the south-east and follow the bend to the left. Just before the next sharp bend to the right, you turn right under a small bridge and you come to the lake. There is a pier on your right from where you can go for a swim.
It is possible to make a round trip to the Giethoornse Meer (14 km).
From Ossenzijl you can make a round trip on the Scheene (16 km), or make a trip on the Linde.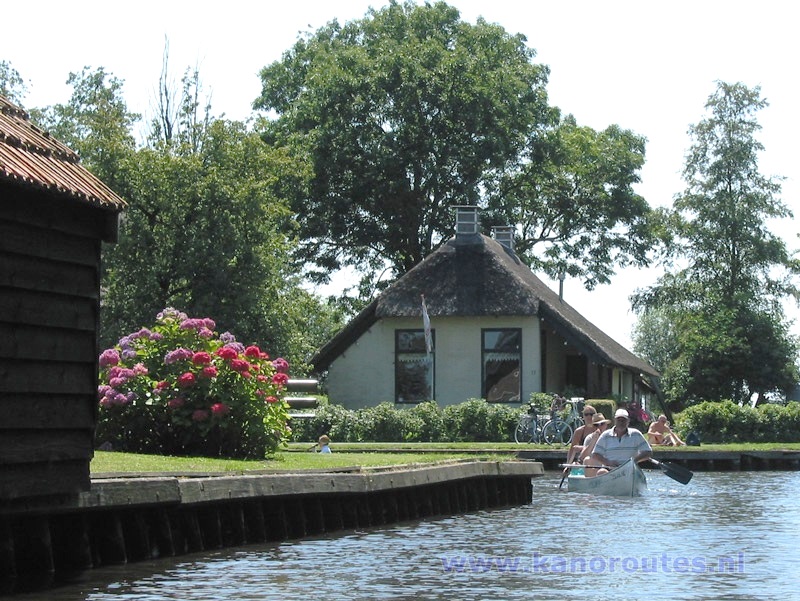 Kalenberg
Kalenberg